Nick Kelso Promoted to Vice President – Store Operations for B&R Stores, Inc.
April 5, 2023, Lincoln, Neb.
B&R Stores, Inc., a family-owned company based in Lincoln, NE is proud to announce the promotion of Nick Kelso to the position of Vice President – Store Operations. In this new role, Nick will be responsible for overseeing the operations of the company's 33 stores across Nebraska, Iowa, and Missouri.  Additionally, Nick serves on the company's Executive Committee.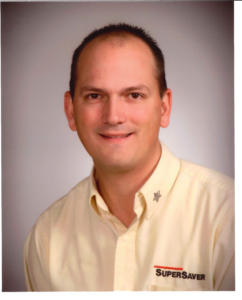 Nick brings with him over 23 years of experience at B&R Stores, having joined the company as a clerk in Omaha and steadily rising through the ranks. He has consistently demonstrated his competence, professionalism, leadership skills, and commitment to the company's core values throughout his career.
Nick's journey at B&R Stores includes various leadership roles, including store director and district manager for both the Russ's Market and Super Saver groups of stores. He has been instrumental in implementing initiatives such as computer-assisted ordering and he played a key role in the successful acquisition of C&R Markets in Missouri.
"I am deeply honored and grateful for this opportunity to serve as Vice President – Store Operations for the company," said Nick Kelso. "I am committed to upholding B&R Stores' values and leading our extraordinary team of employees to deliver exceptional experiences for our customers."
Mark Griffin, President of B&R Stores, Inc., expressed his confidence in Nick's capabilities, stating, "I am proud to say Nick is fully qualified to take on additional leadership responsibilities for the company.  As the embodiment of a servant leader, Nick knows in his heart, it is the company's people who matter the most. Nick is a true motivator of people who inspires those he leads to perform at their best."
B&R Stores, Inc. was founded in 1964 by Russ and Anita Raybould. The family-owned company has grown to include several supermarket banners including Russ's Market, Super Saver, Apple Market, Allen's, Cash Saver, C&R Markets, and Joe's Market located in Nebraska, Iowa, and Missouri.