B&R Stores Announces Acquisition of Mason's Market in Minden, Nebraska
Lincoln, Neb. – May 26, 2023
B&R Stores, a leading regional grocery retailer, is pleased to announce its acquisition of Mason's Market, a beloved community supermarket located in Minden, Nebraska. The purchase agreement, set to be finalized on June 19th, 2023, marks an exciting milestone for both companies and the local community.
Mason's Market, originally established by Tom and Edda Mason, has been a cornerstone of Minden since the 1950s. In 1984, Craig Space assumed ownership of the store, followed by his son Riley Space, who joined the family business in 2011 after his honorable military service. Over the past decade, Riley and his family diligently modernized and updated the store, creating a shopping destination that the community has come to rely on and cherish.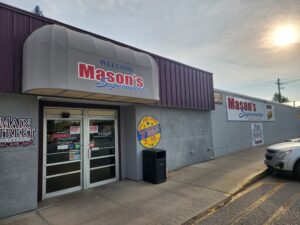 Expressing gratitude to the community, Craig Space remarked, "I would like to thank the community for shopping with my family for many years and thank the employees for their loyal service. The support we have received has been truly remarkable."
B&R Stores, known for its commitment to exceptional customer service and high-quality products, is honored to have the opportunity to serve the customers of Minden. Mark Griffin, President of B&R Stores, expressed his enthusiasm, stating, "We are proud to have the opportunity to serve the customers of Minden and endeavor ourselves to uphold the same high standards established by Riley and his family. We look forward to working with the current employees of the store."
With a focus on continuity and community, the store will continue to operate under the trusted Mason's Market banner, maintaining its legacy as a local institution. Customers can expect the same exceptional shopping experience they have come to appreciate, while also benefiting from B&R Stores' extensive resources and expertise in the grocery industry.
As the transition takes place, B&R Stores is committed to ensuring seamless integration and maintaining the store's unwavering dedication to the community. With this acquisition, B&R Stores further solidifies its commitment to serving and supporting the communities in which it operates.
B&R Stores, Inc. was founded in 1964 by Russ and Anita Raybould. The family-owned company has grown to include several supermarket banners including Russ's Market, Super Saver, Apple Market, Allen's, and C&R Markets located in Nebraska, Iowa, and Missouri.